Welcome to the Avid Flyer Wiki!

The AvidFlyerWiki is a place to collect and share up-to-date information about building, maintaining and flying Avid aircraft, in a format that can be navigated and searched easily.
Our purpose is to preserve the knowledge accumulated in the 25 years since the first Avid Flyer won the Best Design Award at Oshkosh in 1983. Let's keep 'em flying!
Want to contribute your knowledge to the AvidFlyerWiki? Register as a user and Start Here. (Anonymous edits will be removed because it is not possible to contact an anonymous user.)
Other Avid Flyer Online Resources
A Wiki is not an email-based discussion group, although discussions about wiki content may take place within the wiki. Thus, the Avid Flyer Wiki does not replace the Avid Flyer Yahoo group. Rather, knowledge distilled on the Yahoo group is expected to make its way into the Wiki so that it is not lost among the nearly 20,000 messages that have accumulated to date (September 2008). Another group is the AvidFoxFlyers Forum.
A Wiki is not maintained by one person, like a website. Everyone can contribute. Thus, it does not replace Avid websites in the US or Europe. The current importer/advisor for the avid in germany is Martin Seeliger - Email to: seeliger.herzogenaurach(at)web.de .
A Wiki is not a builders log. It is not meant to contain the entire record of any one person's project. The wiki is meant to help all builders and fliers with every detail of their aircraft. Links to builders' logs are welcomed, of course!
This Wiki is specific to Avid Flyer aircraft. It is not meant to contain general information about building, maintaining and flying homebuilt airplanes. For that we suggest EAA.
Featured article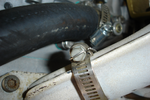 Would a loose worm drive clamp cause a forced landing? How about if a coolant hose came loose? Here's a thought: Safety Wire Those Worm Drive Clamps.
Featured media